ANNOUNCEMENTS                                                                                  January 3, 2021
SUNDAY SERVICES: Out of an abundance of caution due to the virus, Church Worship services will continue to be held on-line on Zoom except for Communion Sunday (first Sunday of the month). The remainder of the month services will be held on Zoom.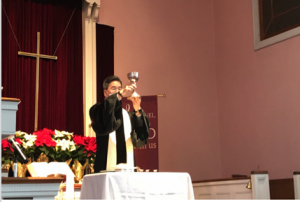 Sunday, Jan. 3,  is Communion Sunday – Services were held in person together at church and via zoom
TITHES & OFFERING: Please continue to devote yourself to giving in three ways:
1) On-line: through PayPal. This can be found on website, www.woodbridgemethodist.org.
scroll down to the "giving" button on the bottom right. This will direct you to PayPal and you can then make your donation to the church.
2) Check: via us mail (pay to WUMC, send to 69 Main St. Woodbridge, NJ 07095)
3) Cash: please insert your envelope in the mail slot which is on the parking lot side door.
BIBLE READING CLUB:
– Beginning January 2021 we will be having a Bible Reading Club again, no classes are necessary, you commit to reading the bible daily and will complete the bible in the year.
– Please let the office know if you would like to join, and pray about finding the time to share with God. Each week reading schedule will be listed in announcements.
– A reading companion for your family, "The Family Bible Devotional: Stories form the Bible to Help Kids and Parents Engage and Love Scripture," is available. You can buy it from Amazon or ask to the church office (Cost is $15).
2021 PRAYER REQUEST ORNAMENT: If you have not filled out a Prayer Request Ornament for 2021, please be sure to email your "Prayer Requests for 2021" to the office as  Sunday, Jan. 10, will be the "Blessing of the Requests."
DECORATIONS:  We will be taking down the Christmas Decorations on Saturday, Jan.23, at 1pm. All invited, please come and help. It would be appreciated if we can have some of the men and youth help with this.
2021 CALENDARS:  The 2021 Church Calendars are at the entrance table, please take one or stop by the church to pick up a calendar (call to make arrangements).
ON-LINE YOUTH SNACK DAY: Youth Snack Day via Zoom will be held every other Saturday at 7pm. The next Youth Snack Day will be Saturday, Jan. 9