ANNOUNCEMENTS                                              April 14, 2019
CHURCH COUNCIL MEETING:  Today after fellowship time.
HOLY WEEK:  Today is Palm/Passion Sunday, and the beginning of Holy Week. Palms 
are available at both entrances. Good Friday service is this Friday, April 19, at 7:00pm.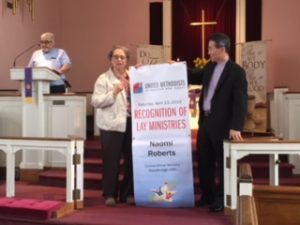 LAITY RECOGNITION AWARD:  UMC recognizes lay members for individuals that show their commitment of Christ's outreaching love. We would like to congratulate
          Naomi Roberts
for receiving the Laity Recognition Award from The Laity Board of the Methodist Church yesterday for her dedication to the Visitation Ministry – bringing communion and visits to the homebound.
EASTER SERVICE/LUNCHEON:  Easter Service is next Sunday, April 21 at 10:30am followed by International Luncheon (asking every family to bring an International food of their family. Please let Janet know how many will be attending and what type of food they will bring. Thank You in advance.)
EASTER INVITATIONS: Next Sunday is Easter.  Please be sure to take the Easter invitation insert and give it to someone to invite to the Easter Service and Celebration. If you are unsure who to give it to, please leave the invite in a location where someone can see it and accept the invitation to attend.
EASTER FLOWERS: If you would like to order flowers for Easter in memory of a loved one, please fill out form in bulletin. Deadline to order is today.
EASTER SERMON SERIES: This Easter Season Pastor Lee will be having a special three-week sermon series starting on Easter Sunday on "What is Love?"  We will hear how this LOVE has power today to transform every aspect of our loves. Bring a friend or neighbor, and we'll discover together that the resurrection still changes everything.
REPLACEMENT OF WINDOWS AND UPGRADES TO CHURCH:  The church, especially the Sanctuary, is and should be a sermon about God; one that reveals a Great God. Our church is old, and in need of repairs. Please pray about this, and help with the transformation of UMC for new windows and repairs. As God speaks to your heart, please fill out the pledge form and place your donation in the offering plate. This can be done by a donation, or in memory of a loved one.
FLOWERS & FELLOWSHIP: This is a special way to honor or remember a loved one. Signup sheet is in the hallway, cost is $20.
~flowers on the altar today are given in celebration of Mrs. Kyung Ja Lee's birthday.